WELCOME TO HÄSTNÄS LOGI, your very own exclusive glamping experience in the middle of Sweden We want to give a huge thank you to all guests who made season 2022 such an amazing one,
next season 2023 (1/6 – 31/8) is now available to book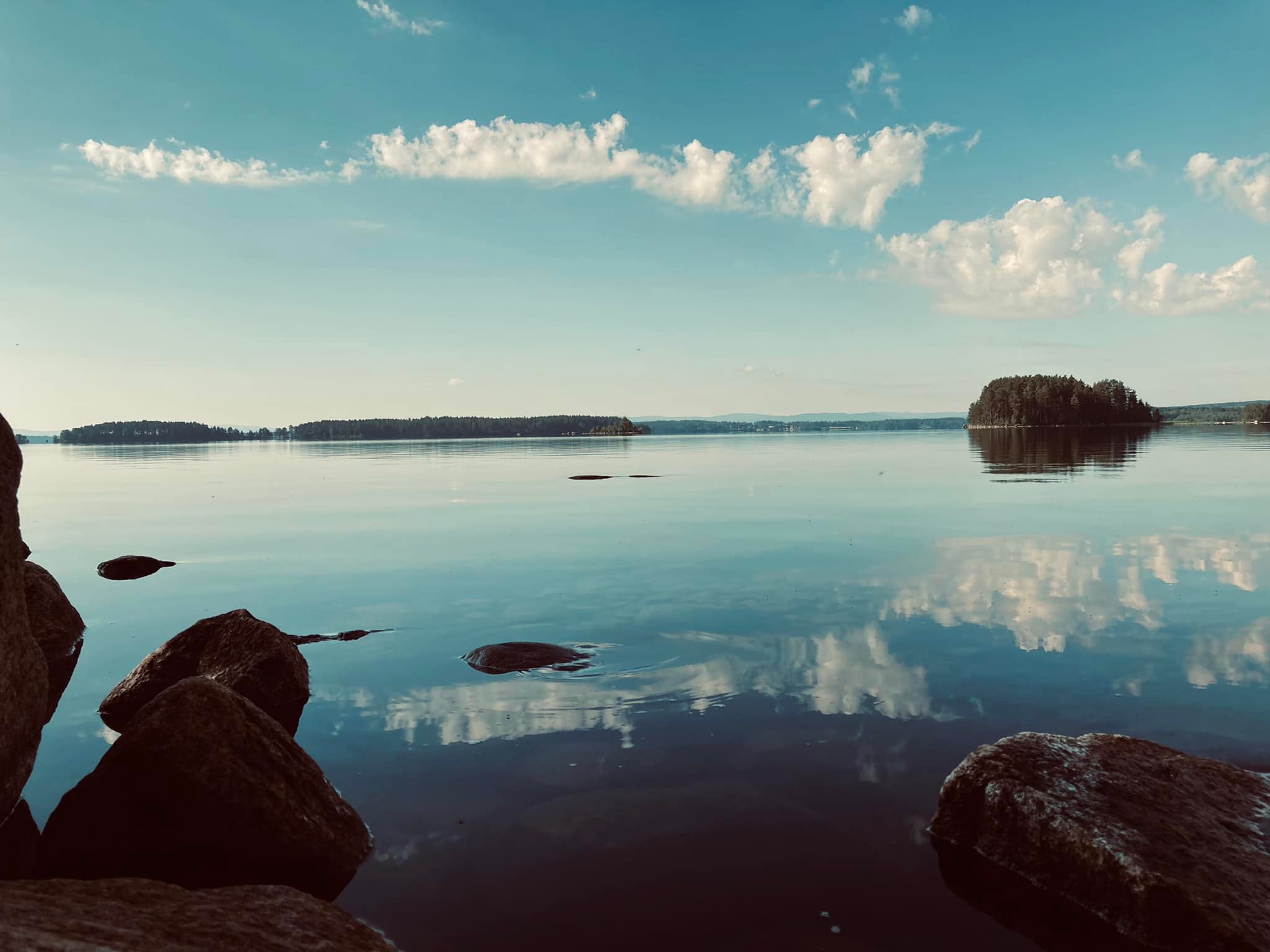 Hästnäs Logi's exclusive glamping retreat is located in a secluded nature area of ancient diverse primeval forest,
just a few steps from the clear water of the lake Norra Dellen, Bjuråker, Sweden.

Our guests enjoy the area all to themselves, as there is only one tent on the location. A place to disconnect, reflect, be active, get in touch with nature and
create unforgettable memories with the people you care about the most.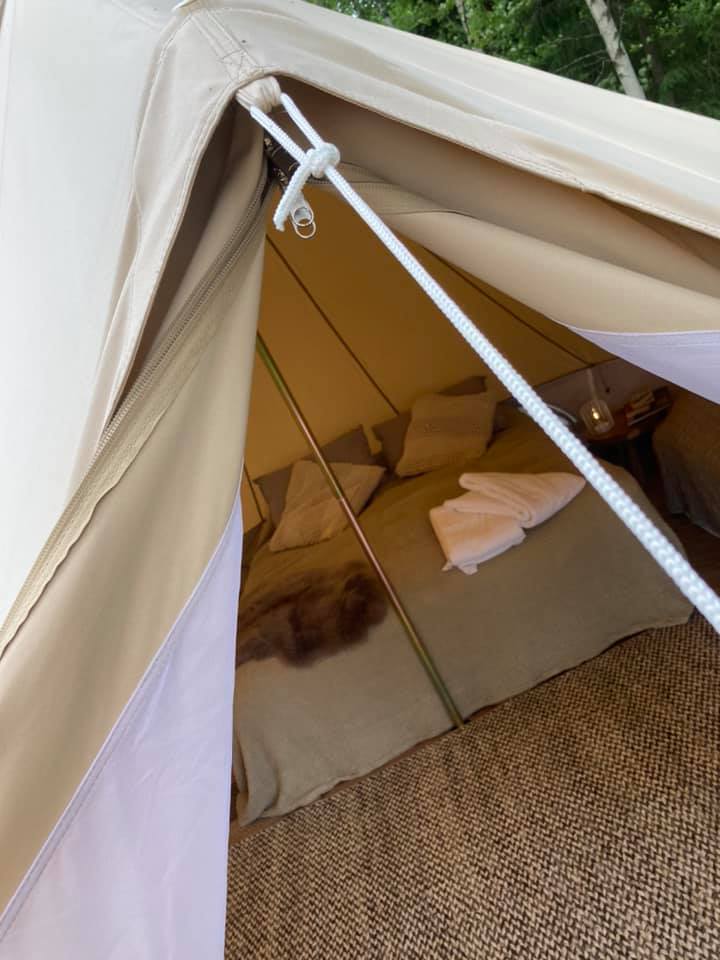 A visit includes A fully equipped tent with bedding, towels etc
The tent is furnished with a solid Queen size 160cm double bed with the possibility to add 1 or 2 extra beds of the dimensions 90x200cm,
the beds are made with fluffy duvets and pillows, and the bedding is 100% genuine linen. Outdoor furniture such as lounge chairs, dinner table with chairs and hammock. Breakfast. The delicious breakfast basket is put together in collaboration
with local delicacy shop Farmhouse Delsbo, and delivered to the tent in the morning at 8:30  During your stay you will have access to various activity equipment such as bicycles, stand up paddle board and canoe,
life vests and helmets included.
You will also have a small rowing boat including basic fishing gear available your whole stay.

The sandy beaches of the island Långön are just a 20 min boat trip away, or if you prefer to stay on the shore,
just a 10 min walk from the tent you will find the beautiful beach called Långsand. Price: 2395 sek for two people
Extra beds: 700 sek each  Options to add to booking: Dinner. A delightful dinner consisting of appetizing cold cuts is available to add to your booking,
it is served in a freezer box in the tent upon your time of check in A token to take home.
Two unique coffee cups specially hand made for Hästnäs Logi by Hälsingemagi.
Add them to your booking  and we will prepare the token in the tent for you to take home with you. Available in pair with the text "Bjuråker" one one cup and "Glamping queen" on the other. 
Would you like to gift an overnight stay?
Contact us to purchase our gift card and give away an all-inclusive overnight stay for two people,
breakfast and dinner included in the price of 2995 sek.   Book now to secure your very own glamping experience by the shore of Northen Dellen in Hälsingland!
Vilken underbar plats att vara på... sedan att man känner hotelllyx i och utanför tältet gör det inte sämre! Vi som varit här längtar direkt tillbaka, ni som inte varit än måste åka dit och få känna samma glädje och rofylldhet som vi gjorde! Tusen tack, från Evy, Andreas, Wokie o Helena❣🙏

Helena Alden


3 augusti, 2022

Vill ni bo på ett fantastiskt ställe, åk till Hästnäs Logi! En helt underbar miljö och ett boende som är genomtänkt in i minsta detalj. Som ett hotell i skogen! Och på morgonen stod det en frukostkorg utanför tältet. Såå mysigt🥰

Maria Strand


27 juli, 2022

En fantastisk plats för att ladda ny energi 🙏🏻 Så sköna sängar och allt är så genomtänkt och gemytligt. Bland den godaste frukosten jag någonsin ätit. Tack för ett härligt dygn 😃❤️👍🏻

Veronica Magnusson


11 juli, 2022

Rofyllt, trevligt, lyxigt, avkopplande! Suverän frukostkorg! Vi hade en jättemysig vistelse och kan mycket gärna komma tillbaka.

Bert Persson


17 juni, 2022

Vilken fantastisk upplevelse! En oas för återhämtning och lugn! 🙌🏼🙌🏼🙌🏼☀️ vi kommer tillbaka!

Morin Ida


11 juni, 2022

Fint ställe att njuta på, härlig natur, ro för själen ❤️🙏🏼 toppen fin bemötande och bra service.

Lisa Andersson


26 september, 2021

Underbart ställe, väldigt fint fixat med allt och härligt att det bara var ett tält. Vi kommer mer än gärna tillbaka ❤️

Joni Lindgren


22 augusti, 2021

Vi har haft ett fantastiskt dygn på lyxigaste vis. Sovit i nio timmar i en underbart skön säng i ett läckert canvas tält. Magisk omgivning i vackraste Hälsingland.

Gabrielle Bella Oscarsson


15 augusti, 2021

Rekommenderas varmt! Vacker omgivning och väldigt fint ordnat, med det lilla extra i detaljerna (tex. frukostkorgen ⭐️). Rent, snyggt och lyxigt som gör att man kan slappna av och bara njuta! ⭐️⭐️⭐️⭐️⭐️

Therese Paugart


5 augusti, 2021

En underbar liten pärla som bara måste upplevas. Vill du ha en annorlunda upplevelse i naturen men ändå ha det bekvämt och ligga i en skön säng? Åk till detta fantastiska ställe. Som att bo i en mysig saga. Glamping på riktigt!

Anna Leima


26 juli, 2021

Vill du komma bort för en stund och bara njuta av tillvaron i fantastisk miljö? Då ska ni ta chansen att boka er hos Hästnäs logi! Lugnt och stilla med guldkant på tillvaron får ni möjlighet att se Hälsingland från sin bästa sida. Kanoten var ett genidrag för att få tonåringarna nöjda! Här kan man rå om varandra och lämna vardagen en stund och bli mottagen på finaste sätt. Boka ni med!

Pia Herrdin


25 juli, 2021

Amazing experience¡¡ Thanks¡¡

Guillermo Col Mayor


25 juli, 2021